by Shaker Lili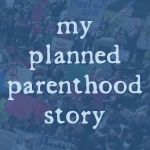 So there is this Planned Parenthood carnival thing going on today.
I am very supportive of the mission Planned Parenthood is pursuing, and of the services they offer, but I didn't think I had anything to contribute to the carnival, because I've never actually been to a Planned Parenthood clinic. I was privileged to grow up in a household where we had uninterrupted quality health insurance, and with parents who, even though they did successfully transmit puritanical religious ideas about sex for a number of years (as a result of my upbringing in their home, the only person with whom I've had sex is my husband, for example), they were not remiss about contraceptive education nor in providing access to it (for my terrible periods, and later at my younger sister's unspecified request). Most of my friends and acquaintances for most of my life were in similar situations.
I've been reading other PP Carnival stories today, and I just came to the realization that I have a story to tell after all.
Because, you see, even though I am a middle-class woman with access to a number of providers, insurance, and education, at the age of 27 years I have had only one gynecological appointment in my life—at thirteen, to obtain the aforementioned menstrual cramp diagnosis and relief. I've made many excuses to myself about this: "Oh, I'm not sexually active so I don't have to go", "I don't have time to go", "I need a referral and that's so annoying", "It'll take too long to find someone", etc., when the truth is that the idea of going simply makes me 100% uncomfortable.

I've never had close relationships with my physicians and I've never been able to discuss my reproductive health comfortably with them. I've always felt intrinsically judged, whether it was the nurse who disbelieved me when at the age of 24 in a routine exam I stated I was not sexually active, to the doctor who didn't take the side effects of my hormonal birth control very seriously (I no longer take it), to the fact that I am now sexually active and contemplating things like potentially having children, and have no idea to what qualified authority I can bring my many questions, given that they include everything from "given my family's history, how likely am I to have a high risk pregnancy" to "if I get pregnant before I want to be, what are my resources for that situation in this geographic area". Those two questions are so socially dichotomized that I can't imagine asking them of the same physician—I feel as though s/he would be left boggling at me, "Well, do you want to get pregnant or don't you?" because these questions could not possibly both be relevant to the same patient, because no patient could possibly want to make a decision about pregnancy based on information about her health and readiness as well as a desire to have a child.

That ongoing (14 years!) reluctance means I've never had a pap smear, or been evaluated for cervical cancer, or even had a basic patient history completed that could highlight risks associated with my particular reproductive system.

I'm not even entirely sure what the point of a pap smear is. Yeah, the internet is out there, but experience in other areas of my medical life has taught me distrust of even so-called vetted sites. Maybe I'm old-fashioned in that regard, wanting a qualified person to explain to me via some kind of one-on-one interaction about these things, but when I had my gallbladder removed I very much did not appreciate the numerous scare tactics that abounded online. I have no reason to believe questions about reproductive health would be any less polarized.

I am generally speaking pretty good at taking care of the rest of me. I have yearly appointments, I investigate bodily anomalies, and I try to follow the advice of my physicians in good faith. Yet on this issue I have been a very poor caretaker of my body. That does no service to me or to my family.

Living in the US and in particular in Indiana I have no guarantee that when I go to see a doctor about these issues the information I receive will not be influenced by the moral view of either my physician or the state officials who have so kindly legislated both a moral agenda and bad science into medical practice. I am a scientist myself, and as my friends could tell you, nothing rankles me like bad science—when a discipline meant to help and illuminate the world (even if it sometimes falls short of that goal or is misappropriated) is hijacked by non-scientists who are in fact ascientific in their beliefs but have no moral qualms about camouflaging their mission in a trusted vehicle, it is incendiary to me. And it doesn't help me feel reassured that quality healthcare is available to me as a woman despite the privilege of my income and situation.

So this is my Planned Parenthood story: When I get home from work tonight, I am going to schedule an appointment at a local branch, because hearing everyone else's stories convinces me that Planned Parenthood is to be trusted with matters as important as my reproductive health, and that the individual choices I have made and am making, which are appropriate to my individual life, will be extended credibility and respect.

And when I get my next paycheck, I'm going to make a healthy donation as well.

—Lili, Indiana, USA

Read the rest of the My Planned Parenthood Carnival posts here.